R&D Researcher

Ing. Nicolina Sciaraffa got her Bachelor Degree in Clinical Engineering in 2013 and her Master's Degree in Biomedical Engineering in 2016, at the University of Rome Sapienza.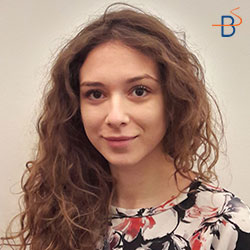 She received a PhD in Morphogenesis and Tissue Engineering (Biophysics curriculum) in 2020 at the Department of Anatomical, Histological, Forensic and Orthopaedic Sciences at the University of Rome Sapienza. In 2022 she got a second-level master course in Data science and big data analytics.
Since 2016 Nicolina has been focusing her work on the objective assessment of mental states through the analysis of neurophysiological signals through the use of machine-learning methods. Moreover, her research activity involves signal processing, machine-learning algorithm, and brain connectivity estimation.
Most of the studies have been conducted in both laboratory and realistic environments to assess mental workload, stress, attention, and cooperation.
She is currently involved in the advancement of the Mindtooth project.