R&D Researcher

Ing. Nicolina Sciaraffa got her Bachelor Degree in Clinical Engineering in 2013 and her Master's Degree in Biomedical Engineering in 2016, at the University of Rome Sapienza.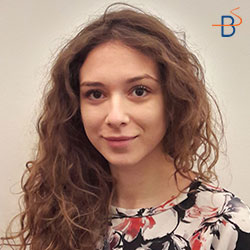 Since November 2016 she has been attending the PhD in Morphogenesis and Tissue Engineering, Biophysics curriculum, at the Department of Anatomical, Histological, Forensic and Orthopaedic Sciences at the University of Rome Sapienza.

Her research activity is focused on the analysis of biosignals in order to study cognitive phenomena related to attention, stress and mental workload in operational environment.
She is currently collaborating on the European Projects "HOPE" and "SIMUSAFE".