Marketing and Communication Researcher

Myriam Caratù achieved her Bachelor's Degree in 'Italian Studies' in 2009, at 'Sapienza University of Rome'.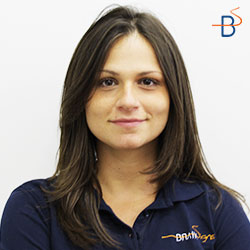 After that, she attended a two-years Master of Fine Arts in "Creative Writing for Media (Publishing, Cinema and TV)" at 'LUISS University', specializing further in this audio-visual field thanks to a Summer Program in "Film Production" at the 'UCLA – University of California Los Angeles', in 2012.
Later on, she came back to study at 'Sapienza', where in 2015 she graduated 'cum laude' in "Marketing and Communication for Business" (Faculty of Political, Social and Communication Sciences): during this Master's Degree, she spent one year in Finland as an Erasmus student at the University of Tampere, where she focused on the media management.
Subsequently, she wrote her thesis - which compared the British and Italian scenarios in the field of branded entertainment – as a visiting student at the University of Manchester.

After a series of international work experiences in the field of media, marketing and communication (Yle, FOX, Telecom Italia Sparkle), dr. Caratù enrolled in a PhD Program in 'Communication, Research and Innovation', back again at 'Sapienza'.
She currently collaborates with Brainsigns as a researcher, whose main task is to generate and promote data reports relative to the "SmokeFreeBrain Horizon2020" project.