Web and Social Media Content Manager

Dr. Silvia Ferrara achieved her Master'degree with honors in Communication and Marketing Psychology (Faculty of Medicine and Psychology) in 2016, at the University of Rome "Sapienza".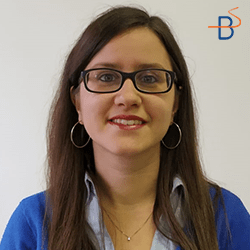 She is specialized in Digital Marketing, attending a professional course in Tools and Strategies of Web marketing, Social media and online advertising at the web agency Bloo s.r.l. in Pescara.
From 2017 Dr. Silvia Ferrara collaborates with BrainSigns s.r.l. promoting the company through web and social pages.
Her experience is focused on the design and creation of websites, writing articles for corporate blogs, social media marketing, website analysis (Google Analytics), email marketing, visual content marketing and development of information material (presentations, analyses) aimed at disseminating company knowledge.
In addition, Dr. Silvia Ferrara in BrainSigns s.r.l. deals with analysis of qualitative interviews, giving support to Neuromarketing research, for projects with important Italian companies as TIM and BNL.
Since 2021 she has been a subject expert for the teaching of Life Sciences Information - Communication in Physiology - Master's Degree Course in Scientific Biomedical Communication.