Neuromarketing Researcher

Dr. Ana Martínez Levy graduated in Business and Administration (2014) at the University of Granada (Spain).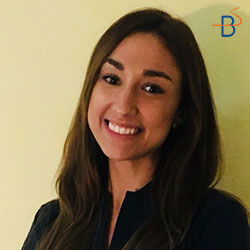 In 2015 she attended the Master in "Neuromarketing" at the International University of La Rioja, carrying out her thesis on Neuroestetica.
She is currently attending the PhD in Communication, Social Research and Marketing, at the Communication Department of the Sapienza University of Rome.

Since 2016 collaborates with BrainSigns s.r.l. in the field of Research & Innovation, and in particular in the realization of biometric tests within the neuromarketing field.

She has collaborated in numerous neuromarketing studies both for internal research and as service for other companies. She contributes actively to the acquisition and analysis of biosignals (Electroencephalogram, Heart Rate, Galvanic Skin Responce), to the evaluation of neurometric results, until the presentation of the results.

The studies in which she has participated are TV advertisements (Tim, Save The Children, UNHCR), taste (Loacker, Taste Italy). She also worked with web usability to evaluate the effectiveness of a website (Poste Italiane).