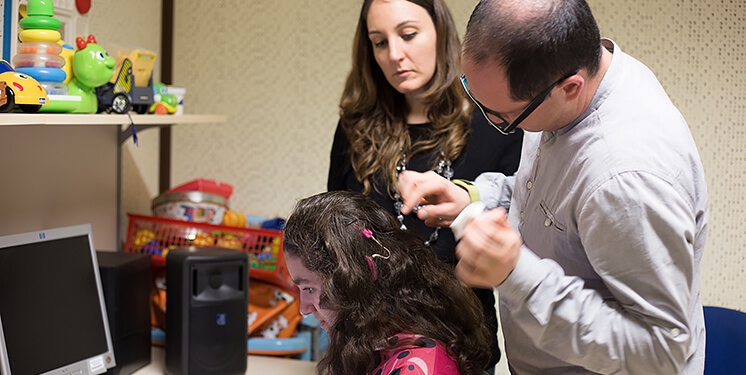 Device Evaluation - Clinical Application
It is possible to test the impact that the perception of specific medical devices (cochlear implants or similar) has on the Central Nervous System
Fast Navigation
The application of a medical device may cause variations in the mental workload and in the emotional perception of the person that uses it: Brainsigns adopts advanced tools - and neuroimaging techniques related to them - that can help you to assess the performance of this device.
This very advanced analysis is conducted in an ecologic setting, by measuring different biometric indices of the subjects interacting with the device, namely:
The level of cerebral effort/workload
The level of stress and pleasantness
The emotional reaction unconsciously expressed by the users of the device
This is an interesting approach, since is able to integrate the standard evaluations based on behavioral tests or on the verbal declarations/opinions of the subjects - which often are considered not precise enough. In fact, Brainsigns' method:
Gives, as results, objective neurometric indicators that are not biased by the users' rational opinions about the effects of the medical device.
Verifies, at this level, what are the factors that make a device better of another one, in the context of particular situations or tasks.
How We Work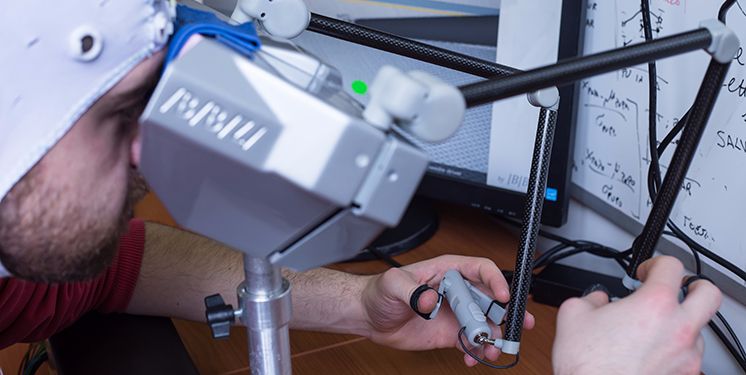 The technologies involved in Brainsigns' method are the following ones:
Thanks to the advanced technologies aforesaid, and to the expertise in the biometric analysis, we will help you to get insights related to the impact of your medical device on the user's emotional and cognitive resource.
Brainsigns' expertise is well known worldwide, thanks to the many scientific articles published on the most acknowledged journals in the field of neuroscience.
The above mentioned methods have been applied, beforehand, in studies about the effectiveness of 'singular versus double' cochlear implants (Cochlear inc.), as well as in the workload impact evaluations during the use of a robotic surgery simulator device ("Simulator Actaeon" by BBZ).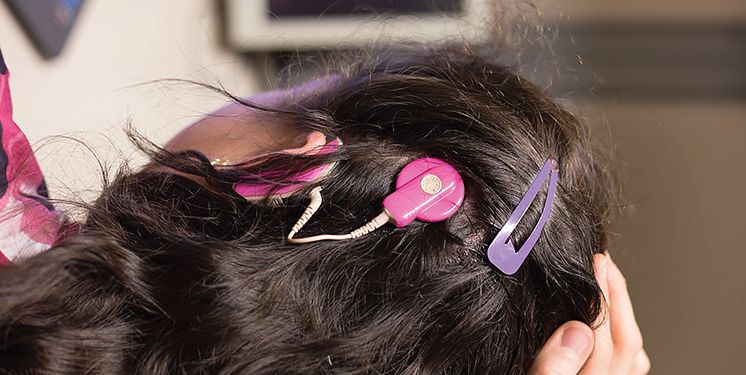 What you will get:
An answer to your questions about the actual impact of the device's performance on the tested subjects - as well as to the issues arising in the comparison between different devices - in all those situations where the judgment based on the verbal-cognitive tests may be considered not sufficient in ecological testing conditions, accurately designed
The evaluation of the emotional and cognitive impact of the device on the subject that is using it during the execution of a specific task.
The opportunity to correlate the subjects' behavioral outcomes and performances to measurable metrics (the electroencephalographic ones) and emotional personal states
Questions that could be answered:
Is it possible to measure and compare the emotional and cognitive impact that different devices (or different versions of the same device) have on the users, thus going beyond the verbal declaration about their experience?
Which are the most demanding cognitive conditions for the use of your medical device? And which are the least demanding ones?
Which is the actual cerebral effort, stress and emotional state experienced by the experimental subjects during different conditions of use of the device?
Are there positive improvements in the subjects' reactions after the training and after having used the device for a certain period of time?