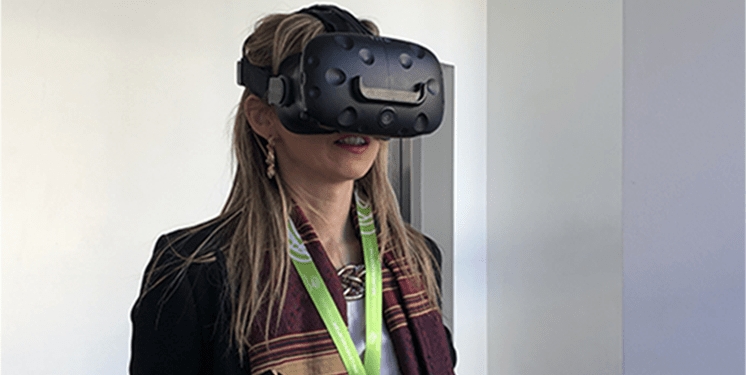 Virtual reality is the term used to indicate a simulated reality, built on a computer, where the user can freely move.
Through the design software, it is possible to modify this reality by changing the brightness of the ambient surrounding the tester and by including different music, thus recreating an environment that can arouse a particular emotional involvement.
Access to this digital world is made possible by VR viewers and accessories (not just joypads, but also gloves, shoes and more), which are developed specifically to interact and "live" within the virtual reality. Thus, we are able to create a simulated and three-dimensional world that appears to be practically real to the testers/users' eyes. And, just as happens in reality, the virtual environment can be explored in every single centimetre and in every direction.
In our studies we have integrated virtual reality with tools such as EEG, HR and GSR to study the people's neurophysiological, behavioural and implicit responses to different stimuli during interaction with virtual environments.
The VR is an advantage especially for the study of emotions because, by reproducing more realistic experimental settings, it is able to arouse more emotions and emotional changes.
It is also important to integrate the EEG, GSR and HR tools with virtual reality so as to obtain more complete and objective data. Mostly, it is important to recreate specific environments to study or improve the behavioural and emotional responses.
It is no surprise that the first uses of Virtual Reality in the psychological field concern therapies for psychological disorders such as: phobias, social anxiety or more recently post-stroke rehabilitation.
Virtual reality can be used in different fields, such as:
Interior design - architecture (VR allows to recreate environments of all kinds)
Psychotherapy
Medicine (medical exercises, simulations of first aid measures)
Military (military training with minimized risks)
Tourism (in order to explore places)
Art (it gives the opportunity to observe works from all over the world)
Gaming
Advertising (advertising in Virtual Reality becomes immersive and a real experience for the user)
Product testing (VR allows you to create environments where you can place products and test them)
Prototype tests
Set-up test
There are numerous positive aspects in carrying out research with virtual reality: the advantages are also economic, because through the VR you can test different stimuli without the need to physically realize it, which, most of the time, would require greater economic costs and time.