Neuromarketing World Forum 2019 in Rome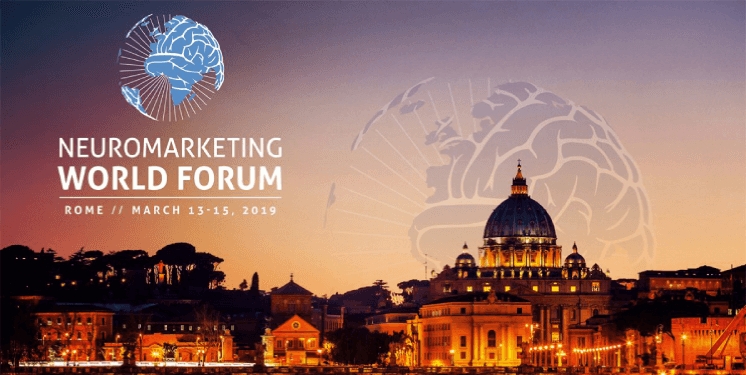 Neuromarketing World Forum, the most important Neuromarketing event, will take place in Rome, Italy this year.
What is Neuromarketing World Forum?
Neuromarketing World Forum, held by the Neuromarketing Science & Business Association (NMSBA), is the most important annual event about Neuromarketing. At its eighth edition, this year it will take place in Rome, Italy on the 13th, 14th and 15th of March.
The Forum is a global conference that takes every year takes place in a different city. Previous edition took place in Singapore, London, Dubai, New York.
The convention aims at highlighting the advantages deriving from the integration of Neuromarketing into marketing practices and corporate communication, in order to point out the innovation and convenience of investigating implicit reactions: we cannot express them rationally, but they play an essential role in our daily behaviour.
Neuromarketing World Forum represents a unique opportunity for those who share the interest for this innovative branch of knowledge.
BrainSigns will take part in the convention through Prof. Fabio Babiloni's speech.
Prof. Babiloni will talk about the results of the scientific research "What are the screen size limits for eye tracking?", which has strong implications for companies.
The research suggests that even though studies carried out with eye-tracking webcams are nowadays very popular and interesting, their data interpretation should be related to the context of use.
Results show that researches carried out in ecological contexts with professional eye tracking tools (steady or mobile) may lead to totally different conclusions. Accordingly, the choice of the appropriate tool is of great importance in order to observe the user's visual attention in customer experience contexts.
NMSBA – Neuromarketing Science & Business Association is a global association for those who share a professional interest in Neuromarketing.
Currently members in over 100 countries join the association: customers, students, researchers, sellers, universities and BrainSigns.
Born in 2012 with the aim of promoting Neuromarketing and supporting members in:
discover this field of knowledge
meet people who share the same interest
buy Neuromarketing services
For more info about NMSBA or for subscriptions visit: https://www.nmsba.com/
Contacts:
tel. +31302745848
email: This email address is being protected from spambots. You need JavaScript enabled to view it.
More on Prof.Babiloni
Prof. Fabio Babiloni, graduate in Electronic Engineering, holds a PhD in Computational Engineering from the Helsinki University, Finland. He is currently professor of Physiology at the Sapienza University of Rome and he is author of several international scientific publications. He is also in Top Italian Scientists list, the list of the best living scientists operating in Italy and abroad in all fields of knowledge.