Cognitive psychologist

Dr. Bianca Maria Serena Inguscio graduated in Economics at the University of Florence and with a Master's degree in Music, obtained in 2015 a Degree in Psychology and Social Processes and in 2017 a Master's Degree in Cognitive Neuroscience and Psychological Rehabilitation with honors at the University "La Sapienza" of Rome.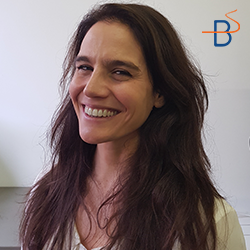 Winner of the admission competition for the Phd in Clinical-Experimental Neurosciences and Psychiatry (35° cycle) at La Sapienza, is currently a Research Fellow at the Dept. of Sense Organs of the same University; she carries out its research activity in BrainSigns in the field of Auditory Neurosciences, focusing its interests on the application in the clinical field of technological protocols for the evaluation of neurophysiological correlates (mainly using Electroencephalography).
Specifically, she contributes to the creation and organization, in clinical groups and control populations, of experimental protocols focused on evaluating the response to exposure to various kinds of auditory stimuli (language, music and non-verbal communication stimuli) and cognitive functions (eg. memory, attention) related to them.
Qualified Psychologist, Bianca Maria Serena Inguscio also supports BrainSigns in neurocognitive and psychodiagnostics assessment.