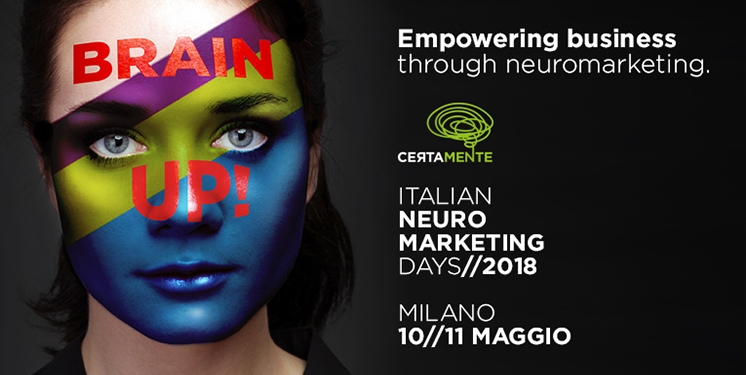 It is the only conference in Italy dedicated to Neuromarketing and was started due to the enthusiasm of two Italian companies: Ottosunove, a communication agency in Turin and BrainSigns, a spin-off of "Sapienza" University of Rome, leader in the exploration of neuromarketing techniques and their applications.
CERTAMENTE has now reached its 3rd year and aims at making entrepreneurs and companies aware of the potential innovation that neuromarketing can bring to business, and fosters a frank and competent debate to focus on modalities and advantages deriving from the integration of this approach with business marketing and communication practices.
In other words, the conference aims at illustrating in the best way possible, the innovation and the concrete benefits of neuroscience when evaluating our instinctive and implicit reactions – that are usually not expressed in a rational way but are actually very influential in determining our daily behaviour. Neuroscientists tell us that these reactions influence up to 95% of the results of our decision-making processes, so measuring and studying them means greatly improving the ability to fully understand the recipients of any marketing promotion.
The event will be held again this year in Milan, on the 10th and 11th of May, and will see the participation of companies, scholars and experts (both Italian and international ones) in: diverse fields: neuroscience, behavioural sciences, marketing and communication. There will be two days of intense dissemination and discussion, with a particular focus on emotional and sensorial marketing.
The congress will begin with a key-note speech about brain and marketing features.This will be followed by two round tables, where the topics will be integration of neuromarketing in the companies and the most innovative contents that this discipline can bring to business. Afterwards, there will also be case histories, communication strategy guidelines and research results.
The speakers will be experts in communication and international scientists, like Roger Dooley, Andy Myers, Alastair Herbert, Eamon Fulker, Fabio Babiloni, Michele Costabile, Matteo Motterlini. During the breaks, attendees will have the opportunity to participate directly in various Neuromarketing test applications: tests on video ADV, on products and packaging experience, as well as in the use of apps on mobile phones.
"CertaMente" will therefore be a unique opportunity for those interested in better understanding this innovative discipline that is growing worldwide and the best ways to incorporate it into business practices as a tool for success.